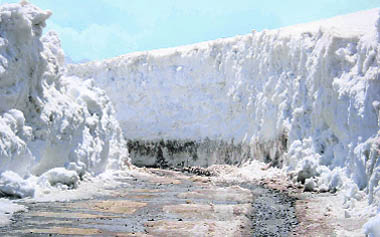 Spring is advancing on the high ranges , slowly turning the top layers of snow into mush, meanwhile the big mass remains unmoved, a thin line being nibbled thru the snow by the machinery of the BRO : Srinagar to Leh , Leh to Manali.
One of the last to walk in to Lahaul on the road was Vishnu Maya , who ( I imagine) became involved in one of the oldest cnversations on the planet :
"not
now
"
"now dear , this is not something I can decide on..."
Yes , their daughter was born at the top of the Rothang La ("The Plain of Corpses") ,altitude 3978 meters, with the help ,sympathy and blankies of the others present on the trail.
Maybe this is the time for us all to turn in to mush.
(More on the Manali-Leh road status on
High Road to..
)